I was born in Indiana, raised in Illinois and now I enjoy life with my family up in Wisconsin.  Like the man in "Unfinished Songs", I think I "always wanted to be a songwriter, but it was a distant dream."  I had written a couple songs and had some other lines and ideas, but I never really got too far. 
Then a while back, I got to play a couple songs for some people at a coffee house type venue.  The reaction I got fired me up and I've been knuckling down on my writing ever since.  I just finished my first CD. 
I like it when I can make a real connection with the audience by coming up with some small, descriptive detail.  Contact me if you'd like me to play at your place, hopefully within a reasonable distance of Kohler, WI. 
Honored to be a 2016 and 2017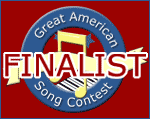 Three-time honorable mention recipient in the 2018 Song Door contest in three different categories: Christian, Country, and Soft Rock. 
Four-time honorable mention recipient in the 2017 Song Door contest.
Winner of the 2017 Mid-Winter Talent Contest at The Coffee House in Milwaukee where someone called him a "neat old guy".
I was on Riverwest Radio with Sandy Weisto on 5-6-17.  Check it out here: 
https:///soundcloud.com/user-409984402/sandys-sessions-2017-05-06